Experience the emotional autumn even after summer is over! Special guest the engy❣️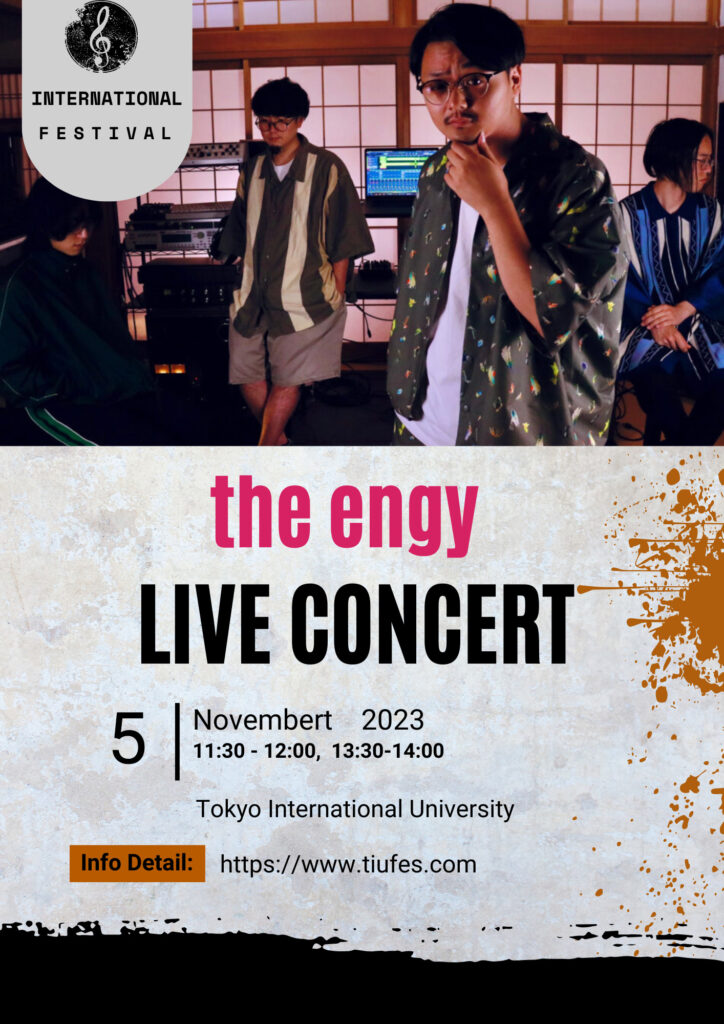 On Sunday, November 5th, the second day of the school festival, we will be inviting the engy as a special guest.
the engy is a 4-person rock band from Kyoto Prefecture that was formed in 2014 with guitarist and vocalist Koshi Yamaji and bassist Shusaku Hamada, who were together in a light music club at university.
Centered on the idea of ``making cool songs,'' the song has a tasteful sound that is carefully packed with elements of soul and hip-hop dance music, an English ability that is far superior to Japanese people, a soulful singing voice, and the overwhelming completion of the song. They attracted attention for their high level of skill, and made their major debut in October 2019, two years after the current members were formed.
They are a rock band whose distinctive sound is a borderless mix of genres such as soul, hip-hop, and electronic music, and their songs that captivate listeners with their smoky, powerful vocals and delicate track makeup are gaining popularity.
It has been decided that the full album will be released in the new year, and a tour to support the album has also been decided.
In the fall, just before the national tour, you will have a chance to meet the engy live at our school's school festival, albeit for a short time. If you come to see us, you are sure to be captivated by their sensational musicality and emotional sound that goes beyond traditional Japanese music.
This fall, I hope you too will be intoxicated by the emotional sounds. We'll be waiting.
member
Koshi Yamaji : Vocalist and guitar player.
Shusaku Hamada :  Bass person
Yuto Sakai    :  Drums person
Kyosuke Fujita   :  Guitar, chorus, and keyboard
Follow me!