A popular voice actor is coming!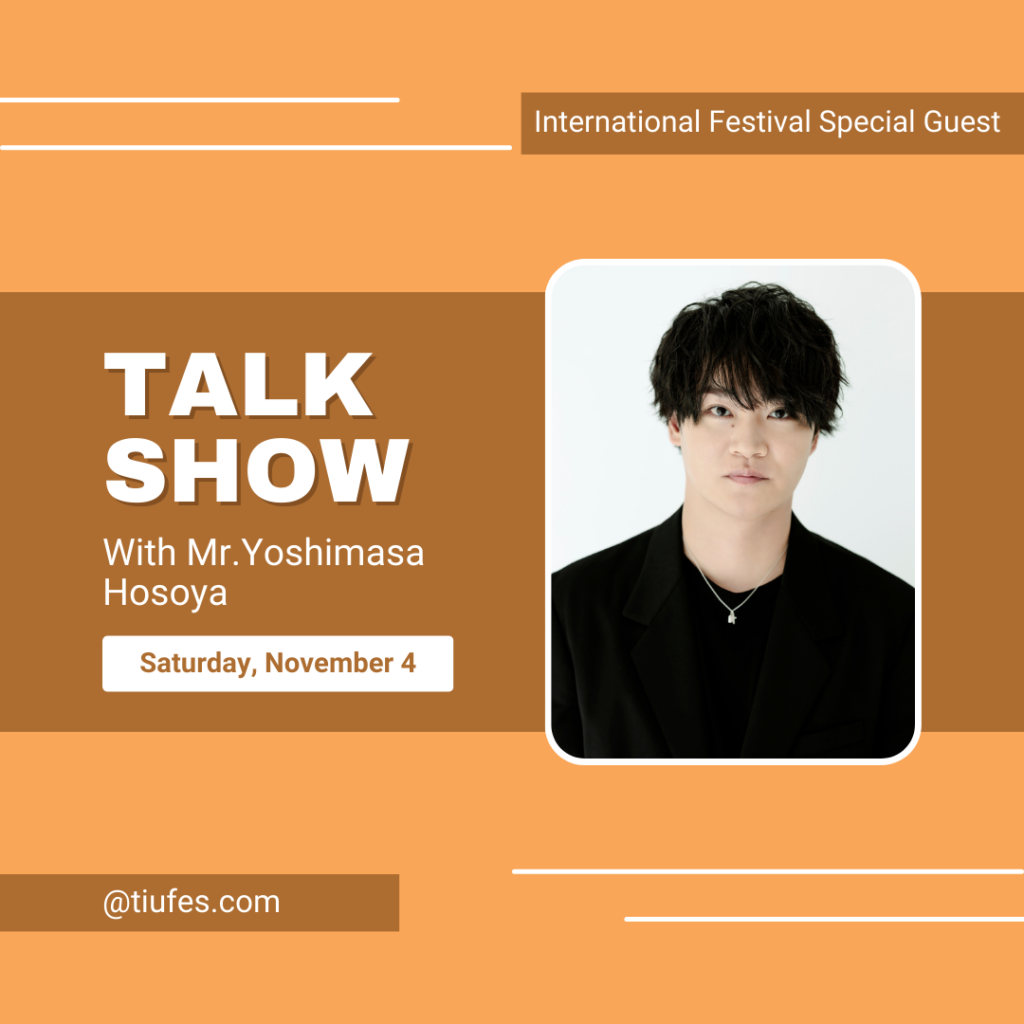 It has been decided that voice actor Yoshimasa Hosoya will be invited as a special guest for the talk show of Tokyo International University International Festival 2023!
Mr. Hosoya has appeared in numerous roles, including the role of Reiner Braun in Attack on Titan'', the role of Olga Itsuka in Mobile Suit Gundam: Iron-Blooded Orphans'', and the role of Flash in ``The Flash''. He is also active in various fields such as animation, dubbing, narration, and stage play.
■Date and time: Saturday, November 4, 2023, 13:30-14:30 (doors scheduled to open at 13:00)
■Location: Tokyo International University Kawagoe 1st Campus Auditorium
Admission to Mr. Hosoya's talk show will be limited to those with a numbered ticket. How to obtain a numbered ticket is as follows.
Separately, numbered tickets will be distributed in advance within the university (information will be provided on POTI), but students and faculty who missed out on advance reservations can still apply using the method below.
■Capacity: 650 seats
■Priority application period for TIU students and faculty (250 people): 10/ 2(00:00) ~ 10/10(23:59)、 Result announcement date:10/12
■Application period for the general public (400 people)  :10/15(00:00)~10/23(23:59)、 Result announcement date:10/25
■How to make a reservation for the general public
 Please make a reservation from the website on the right.    〈Reservation Site〉
※Please note that applications are limited to one seat per person.
※応募人数が予定人数を超えた場合は厳正なる抽選で人数を制限させていただきます。抽選結果につきましては、結果発表日に、いただいたメールアドレスにご連絡させていただきます。If the number of applicants exceeds the planned number, we will limit the number of applicants through a strict lottery. We will contact you via the email address you provided regarding the lottery results.
・「細谷佳正」公式サイト
・「細谷佳正」公式Twitter
・細谷佳正の『僕のみぞ知る世界』公式YouTube

Follow me!