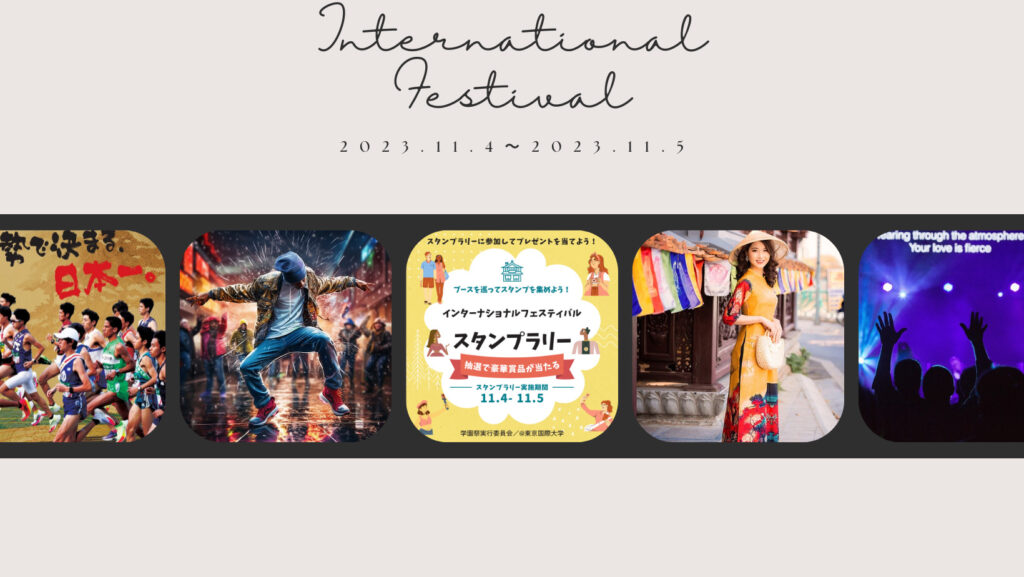 Structure of the school festival plan
The plan for the school festival can be broadly divided into three categories: "Stage Events", which mainly consist of music and dance clubs, "Indoor Events", which mainly present cultural clubs and seminars, and "Food Booths". At the food booth, students of various nationalities will introduce their home country's cuisine.
Each presentation is a place where each student unleashes an identity that is hidden in the classroom. They will demonstrate the results of their daily practice and study, introduce various special skills, and introduce the culture of their home country.
We hope that many people will participate in the school festival and see the performances and exhibition presentations of TIU students. We hope that you will have a great time with us.
Location: Special outdoor stage

*Some events are held in the

Auditorium.
時間

11

/

4

(Sat)

11

/

5

(Sun)
10:00
Team PC(music)
 10:00~10:20
 
SFEC(dance)
10:20~10:40
4U(music)
10:35~10:55
Desi Beats(dance)
10:50~11:10
11:00
Tukiori Momiji(music)
11:05~11:25
Get you-Daniel Caesar(music)
11:40~12:00
the engy(music)
11:30~12:00
12:00
Cholo Bangladesh(music)
12:10~12:30
 
Fashion Show
12:15~12:45
Distortion(music)
12:40~13:00
13:00

I-to(music)
13:10~13:30
Mimi and Friends(music)
13:00~13:20




Hosoya Yoshimasa

(talk show)

13:30~14:30



Auditorium



            


the engy(music)
13:30~14:00
14:00
Lil' Iruka(music)
14:10~14:30

Random Dance(dance)
14:40~15:10


Brass band club(music)
14:30~15:00


Auditorium

15:00
Mellow Dolphin Jazz Orchestra(music)
15:00~15:20


Dawn of Babylon(dance)
15:25~15:45
Tiny Love(music)
15:40~16:00
16:00
KATHAK(dance)
16:00~16:20
Cholo Bangladesh 2.0(dance)
16:30~16:50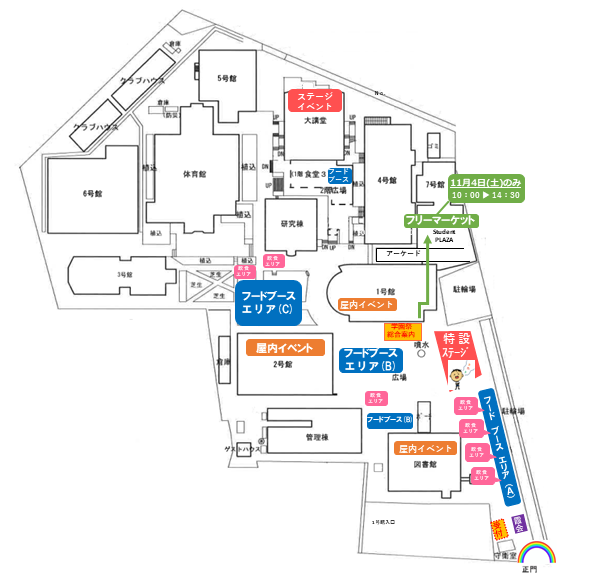 Top Planning Award ~ What is your best one?
Top Planning Award is an award given to the planning organization with the most visitors as a result of the stamp rally. The best one will be determined by your participation in each event. Please check the event details and visit any booths that interest you!